Surilana is always "Open" for visitors.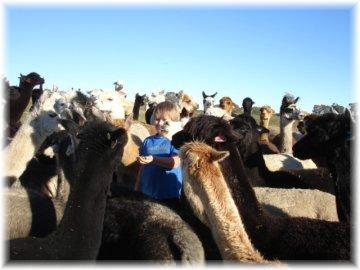 The alpacas at Surilana would love to meet you!
Although special events and open days will be advertised in this section - Surilana is always open to visitors. If you wish to visit Surilana, please contact us to arrange a time. Ian and Angela are happy to show visitors around Surilana, show you an array of alpacas and answer any questions.
Suri Experience Education Day at Surilana on Sunday 26th April 09.
The Australian Suri Alliance will host another "Suri Experience Day" at Surilana. These days are designed to provide information and hands on experience for anyone interested in suris. The suri experience day is suitable for people who want to find out more about suris, as well as people who already own suris.
Some of the feedback which we have recieved from previously held Suri Experience Days are:
"We found the day very beneficial and consider that the wide range of breeders available to discuss issues with was very worthwhile. The "hands on" fleece and animals assessment exercises provided very valuable practical learning skills."
"I have been involved with suris for 2 years now, and I wished I had done this suri intro day back at the beginning. It did tell me though that I feel confident of being able to look at a suri and work out how good or bad they are. Thank you".
"I came away feeling enthused and encouraged to keep persisting with my up grading programme.
"Terrific fun and very, very informative"
"Thankyou so much. We didn't know much about suris, but now feel that we can make much more informed decisions when we decide to buy our first animals".
The cost for the Suri Experience Day is $50 per person or $75 per couple. This includes morning and afternoon teas and a BBQ lunch. Also included are course notes and a CD copy of the powerpoint presentation.
There is lots of time to chat and meet other people who are intereseted in suris.
If you would like to attend the Suri Experience Day in April, please contact Ian and Angela at Surilana and they will send you information and an application form.
The days activities include:
Powerpoint presentation "All about the Suri"
genetics made simple - practical approach to understanding suri genetics.
Looking at and understanding suri fleeces.
Suri products - how does the beautiful fleece transform into a product.
Group activity: looking at suris and assessing them.
Improving your herd through selective buying and breeding
Open Weekend at Surilana during National Alpaca Week, May 09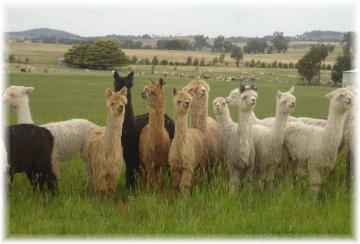 May 2nd - 10th has been proclaimed as Australian National Alpaca Week. To celebrate this event, Surilana will be holding and "Open Farm" on the weekend of 2nd - 3rd May.
Admission is free, so please come along and experience the joy of alpacas.
Activities on the weekend:
Cuddle an alpaca
Learn all about alpacas
See beautiful products made from alpaca fleece
Free sausage sizzle
Spinning, weaving and felting demonstrations
Much more!!