2013 SYDNEY ROYAL SHOW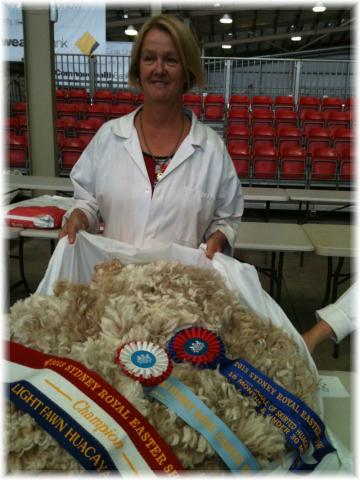 Angela with the Supreme Huacaya fleece

Well 2013 has started with a few ups and downs! However the Sydney Royal was all fantastic!
Angela started by judging the Sydney Royal Fleeces a couple of weeks before the Royal actually started. There were over 250 fleeces to judge in one and a half days. The great team of stewards and the beautiful quality of the fleeces made the big task a pleasure.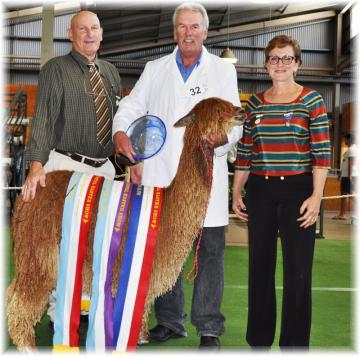 Ian with Judges, Rick Hodgson and Karen Caldwell and the Best Suri In Show, Surilana Magazine Madonna.

As usual, we had a great time at the Sydney Royal over the Easter weekend, catching up and spending time relaxing with friends. The show was well organised by Paul Haslin and his team and a tremendous effort by judges Rick Hodgson and Karen Caldwell who were kept busy over the 3 days of judging.



Our Show team did not dissappoint us and we were thrilled with our results below. There is also a full record of our results in the "Show" section of the website.

Junior Female Suri Champion
Junior Male Suri Champion
Reserve Junior Suri Male Champion
Intermediate Suri Female Champion
Reserve Intermediate Suri Female Champion
Intermediate Male Suri Champion
Reserve Intermediate Male Suri Champion
Adult Female Suri Champion
Reserve Adult Suri Female Champion
Senior Male Suri Champion
Winner Sires Progeny
Best White Suri
Best Light Fawn Suri
Best Medium/Dark Fawn Suri
Best Brown Suri
Most Successful Suri Exhibitor
Best female Suri
Best Male Suri
Best Suri In Show